Social media exploded with hashtags and emojis over the release of Orange is the New Black season 5. This Netflix prison saga has launched its best season yet.
If you are a loyal fan of the popular Netflix prison saga Orange Is the New Black (OITNB), you probably binge-watched season four in a matter of days. That means you were sitting in anticipation for almost a year wondering what Daya's next move was with her new-found power.
As it turns out, season five wasn't the home run viewers were hoping for, so it seems.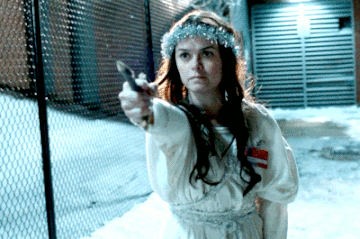 Netflix Prison Saga Builds Audience Up, Then Leaves Them Disillusioned
Taryn Manning has played Tiffany Doggett, the God-fearing hillbilly woman prisoner on Orange Is the New Black the entire five seasons. She says about season five:
"So it had that feeling of art imitating life."
Fans aren't alone in thinking the fifth season ran off course at times. The show's very own Taryn Manning came forward this week to sympathize with the audience. The actress tells Digital Spy:
"I know working on that season was rough because it was supposed to take place in three days, and it felt unorganized, and the storyline felt a little disorganized…"
Ironically, the entire season of this Netflix prison saga was about the women revolting following the wrongful death of their fellow inmate. The fans can't expect too much organization during a full-fledged riot that takes place over just a 3-day period.
Read How Much Would You Pay to Eat 'Orange is the New Black' Prison Food?
Orange Is the New Black: Same Favorite Characters, New Story-Tellers
Taryn Manning's comments came shortly after the show's creator, Jenji Kohan, gave her own opinion of how it turned out. She confessed that she thought the season was weak and admitted there were some issues after losing writers.
Her co-producer, Tara Herrmann, explains:
"It wasn't anyone's fault. It was just a new dynamic—people were attached to the characters as viewers, not as creators."
The show will move forward with several new writers as a result, in hopes that each misguided fan will return to the Netflix prison saga.
Despite the season's backlash on social media, Taryn Manning remains optimistic. It may have been disorganized because of the time frame and new contributors, but she didn't see it as a failure.
Manning says:
"I actually think it was one of our strongest seasons. It's interesting, I'm not a TV writer, [but] maybe from [Jenji's] perspective there were parts she thought would fail because the writers got switched up… But I think it's one of our best," .
Hopefully this insight from the faces behind Orange Is the New Black will be enough to draw people in for season six. This past summer touched on the nation's current political climate and the creator will likely continue the trend next year.
Each of these fictional prison women have powerful stories to tell that represent real-world struggles with love and belonging. If the slightly comical prison women series can step away from the animated feel of the last 13 episodes, it has a very bright future.
Some advocates are calling this year's release as a flawed classic because of its intense emotion and the free will that appeared, which wasn't possible before.
"It's not the traditional roll out of a TV show – like Stranger Things will end on season 4 or 5 – but if people are still watching and they can see it going in a different direction, it could go on forever." – Taryn Manning via Digital Spy
Video: The Vault – Trailer
Taryn Manning is a star on the Netflix prison saga Orange Is the New Black. She also stars in a movie called The Vault (trailer below).
The Vault Synopsis
The Dillon sisters, Vee and Leah, are on a mission to save the life of Michael, their brother. So, they decide to rob a bank. But, there's not enough money in the vault upstairs to cover their brother's debt.
Ed Mass, the bank's assistant manager, advises them to drill their ways into the vault downstairs. But, there's a terrible secret being hid in the bank's basement.
Soon, both sisters will be faced with two choices:
Go outside and face the police
Stay inside and deal with bad supernatural forces
Check out the trailer for The Vault below:
Did you enjoy season five of the Netflix prison saga Orange Is the New Black?
Tell us how you felt about it in the comments below.